Significantly unwell patients do NOT go directly to CDU and are managed in the Resuscitation room.
Attempts should be made to rationalise the number of medical and nursing staff in direct contact with patients being managed as possible COVID-19.
For most standby calls this would represent 2 doctors and 1 nurse.  See Trauma call section below for specific staffing preparations.
All resus spaces are operational and fully stocked for use for any patients regardless of possible or confirmed COVID -19 status. Resus space 1 should be used preferentially to receive stand by patients including those in cardiac arrest.
Emergency grab bags with age appropriate basic airway and IV equipment are available in the first cupboard in spaces 1 and 4 and are clearly labelled.
PPE requirements  for resus:
All staff MUST wear PPE appropriate for AGPs (FFP3/eye protection – visor /gloves/theatre gown) for the initial reception and assessment of all patients in resus. In addition name and role stickers should be clearly visible.
All staff involved in direct patient care should wear a yellow apron over their gown. Staff not in direct patient contact (runner / buddy /scribe /) should wear a green apron over  PPE appropriate for AGPs.  This is to denote that they have not had direct patient contact (within 2 meters).  If they require to assist with direct patient care then this apron should be removed and a yellow apron donned. All staff involved in making up drugs should wear a purple apron over PPE appropriate for AGPs  Staff involved in a major haemorrhage response should wear a red apron over PPE appropriate for AGPs.
RHC ED Resus: Apron – colour code
Patient contact
No patient contact
e.g. runner, scribe
Drug preparation
Major haemorrhage
e.g blood bank liason, administration of blood products
The PPE donning station is the resus corridor
All necessary PPE is located here. 
Open first responder PPE is available for two people as you enter resus space 1 and 4 to allow rapid donning if a patient arrives with little or no pre alert.
When the patient is placed in a Resus space the curtain should be drawn and doors opposite the relevant space closed with signage on the outer aspect stating:  DO NOT ENTER. All further entry and exit should be from doors at the opposite end of Resus where possible.
Curtains dividing the resus spaces should be drawn at ALL times
Store room door adjacent to Resus space 4 should be locked at all times
Full AGP PPE is mandatory for  all staff in resus in the following circumstances:
Any AGP being undertaken in any space within resus.
For a minimum of 20 minutes (preferably 1 hour) after any AGP in any space within resus.
Any accompanying parents or carers with a child in any space in resus should be provided with a FRSM and surgical gown  when either of the above points apply.
PPE can be down-graded (see under PPE Requirements)  following  a risk assessment of the RHCG ED SATA criteria by the treating clinician only when points 1 & 2 above do not apply.
Doffing of PPE should be as per guidance below (Donning and Doffing PPE process). All PPE except for FFP3 masks can be removed in resus. The doffing area for removal of FFP3 respiratory masks is in the resus corridor outside resus space 1.  FFP3 mask should be removed and disposed into clinical waste here.  Hand sanitiser is available and ED staff will direct staff unfamiliar with the area to the nearest hand washing facilities.
Cardiac Arrest
Cardiac arrest patients should be met from the ambulance by an ED nurse and doctor in full PPE. CPR should continue until the patient is out of the ambulance and then respiratory support paused while the patient is transferred along the resus corridor until they are in a resus space. Chest compressions should be continued. Paramedics should accompany the patient and ED staff to allow a handover to the resus team leader in the receiving space.
Unheralded patients requiring immediate resuscitation
The following SOP should be followed for unheralded presentations to resus-
1) Child is taken to space 1 resus from triage/ waiting room (other spaces should be utilised only if space 1 is in use)
2) Emergency buzzer is pulled
3) First responder PPE is donned in resus by the most senior doctor and 1 nurse who begin initial assessment/ resuscitation. PPE grab bags are in each space. (Nursing and medical resus responders should be allocated daily at the start of each shift change.)
4)  All other responders quickly don full PPE in resus corridor before entering resus at which time, if needed, the first responders should then be relieved to allow them to don adequate PPE.
5)  2222 call is put out and ED consultant called in if not resident by the ED co-ordinator if appropriate.
6) Equipment grab bags accessed for correct age/weight of child and placed at the bedside on a silver tray by the resus runner if not already done.
7) Greeter role established in resus corridor to ensure 2222 responders don appropriate PPE and access resus correctly for the duration of the resuscitation.
8) Role allocation undertaken as soon as is practical and should include a minimum of:
Team Leader (may also need to assume a 'hands on' role until adequate staffing arrives)

Airway Doctor

Primary Survey/ Procedure Doctor (roles can be separated once adequate staff)

Monitoring nurse

Drug nurse

Scribe

Runner

Additional roles can be established at the discretion of the team leader once additional help arrives.
9) At the end of the resuscitation staff should doff PPE in resus as per departmental guidance. Assistance can be provided by the clean resus runner (green apron).
10) Documentation should be completed out with the resus room.
11) Consider a 'hot' debrief for the team ensuring social distancing is maintained.
12) Equipment and PPE grab bags should be restocked when the resus space is cleaned and form part of the daily resus checks.
Trauma Calls
Trauma calls should activated as per usual protocols.
If there is a history of:
Traumatic cardiac arrest
Major haemorrhage or prehospital code red
Significant trauma that will likely require early intubation (e.g. reduced GCS/significant head injury)
The following team members should be in PPE for the arrival of the patient.
Trauma Team Leader
Airway Doctor (should be the most senior anaesthetist present)
Airway Assistant
Monitoring Nurse
Primary Survey Doctor
Otherwise trauma calls should be met by 2 ED doctors and 1 ED nurse in full AGP PPE. The rest of the trauma team should still attend the ED and will be directed to a nearby holding area to await further instruction.
Equipment set up for standby calls:
All T-piece circuits should be set up with appropriate filter (see pic below)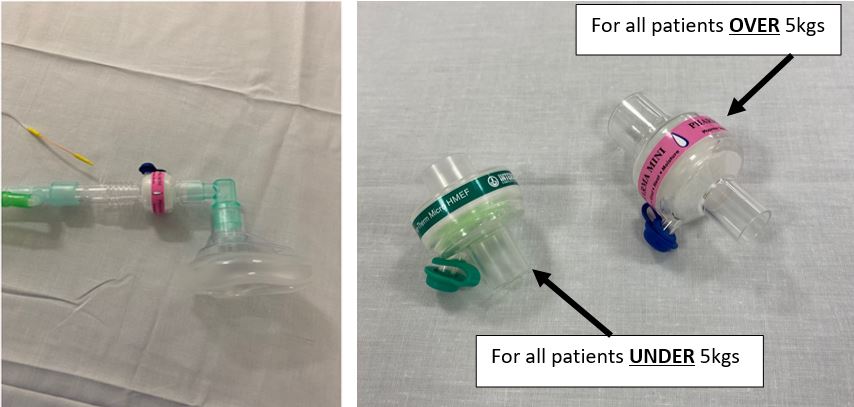 The fully stocked IV and airway trolleys are in each resus space.  One airway trolley has been assigned as the COVID airway trolley and contains the specific additional equipment requested by the anaesthetic team; this is clearly labelled in resus space 1. A separate "difficult airway trolley" can be found in space 1 and is clearly labelled.
Where possible, all equipment that is likely to be required for the patient should be prepared in advance of their arrival. This includes IV, airway and additional equipment from trolleys and cupboards. In the situation of a "RED" patient undergoing an AGP in resus any exposed equipment must be either cleaned or quarantined. The following plan has been agreed with infection control:
Following an AGP for RED patients:
Quarantine IV trolley until 72hrs or negative swab
Quarantine Airway trolley until 72hrs or negative swab (only if drawers opened during/after an AGP - otherwise it is a closed box and contents are clean)
If cupboard doors are opened during/after an AGP contents to be cleaned or discarded - we are aiming to minimise this by forward planning.
(Quarantined trolleys should be moved to the resus store. Printed cards detailing quarantine times are kept in the Blue resus trolley check folder in majors)
There is yellow and black taping on the floor to mark out each resus space.