N.B. Investigations should be undertaken prior to the commencement of treatment unless severity dictates immediate management.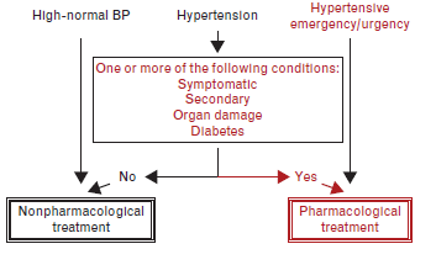 From the 2016 European Society for Hypertension guidelines for the management of high blood pressure in children and adolescents2.
Therapeutic lifestyle changes
Most patients will benefit from lifestyle changes irrespective of the aetiology of their hypertension. These include exercise, weight loss, low-salt or no-added-salt diets, and increased intake of fruit, vegetables, fibre and low-fat dairy products.
Short-term treatment of acute hypertension
The most common indication in this category would be the treatment of hypertension secondary to acute nephritis leading to salt and water retention causing volume overload. A well-tolerated combination would be a loop diuretic (e.g. furosemide) plus a vasodilating Ca2+ channel blocker (e.g. nifedipine).
Long-term treatment of chronic hypertension
Pharmacological therapy is considered in patients who do not respond to lifestyle modifications or who have secondary hypertension, symptomatic hypertension or established target-organ damage. The aim is to use a single agent if possible and to select a long-acting once-daily agent to aid compliance. The choice of antihypertensive is dependent on the underlying aetiology. See Appendix III for a detailed list of potential pharmacological agents, including dosing regimens. 
Angiotensin-converting enzyme (ACE) inhibitors (e.g. enalapril, lisinopril) or angiotensin-receptor blockers (e.g. irbesartan, losartan). Relatively contraindicated in confirmed or suspected renal artery stenosis and to be used with caution in renal disease. Electrolyte monitoring is required whilst on treatment due to the risk of hyperkalaemia and azotemia. ACE inhibitors have a beneficial anti-proteinuric effect and are therefore useful in nephrotic syndrome. Complications include ascending cholangitis. ACE inhibitors and ARB's are contraindicated in pregnancy, and females of childbearing age should use reliable contraception.
β-blockers (e.g. propranolol, atenolol). Asthma and overt heart failure are contraindications. β-blockers should not be used in insulin-dependent diabetics.
Ca2+ channel blockers (e.g. amlodipine, nifedipine)
Diuretics (e.g. furosemide) are useful in volume-dependent hypertension (as above). All patients treated with diuretics should have electrolytes monitored shortly after initiating therapy and periodically thereafter. Potassium-sparing diuretics (e.g. spironolactone, amiloride) may cause severe hyperkalaemia especially if given with an ACE inhibitor or ARB. 
European guideline targets for treatment2:
Hypertension without comorbidities
BP goal < 16 years: < 95th percentile
BP goal ≥ 16 years: < 140/90
HTN + diabetes mellitus type 1 or 2
BP goal < 16 years: < 90th percentile
BP goal ≥ 16 years: < 130/80
HTN + CKD
-Without proteinuria 
BP goal < 16 years: < 75th percentile
BP goal ≥ 16 years: < 130/80 
-With proteinuria 
BP goal < 16 years: < 50th percentile
BP goal ≥ 16 years: < 125/75
Treatment of severe, symptomatic hypertension
Symptomatic hypertensive emergencies should be treated without delay to avoid further damage to vital organs. The aim is to lower blood pressure promptly but in a controlled manner. A sudden drop in blood pressure is associated with an increased risk of intracranial bleeding. Short-acting antihypertensives such as nifedipine should be avoided for this reason. The initial aim of therapy is to reduce the mean arterial pressure by approximately 25% over the first 24 hours. This is best done with intravenous antihypertensives. If blood pressure drops more rapidly on initiation of treatment then volume expansion with isotonic 0.9% sodium chloride must be considered. Any serious complications must be managed before, or as, hypertension is being treated (e.g. anticonvulsants should be administered to a seizing patient along with antihypertensive medications). 
Drugs used in hypertensive emergencies include:
Sodium nitroprusside

Dose: 0.5 micrograms/kg/minute, by intravenous infusion
Onset: instantaneous
Duration of action: only during infusion
Side-effects: headache, chest and abdominal pain
Disadvantages: patients require close observation; potential exists for cyanide accumulation

Hydralazine

Dose: 12.5–50 micrograms/kg/hour (maximum 3 mg/kg in 24 hours for children >1 month), by intravenous infusion
Side-effects: tachycardia, headache, flushing, vomiting
Disadvantage: may require the introduction of a β-blocker

Labetalol

Dose: 0.5-1 mg/kg/hour adjusted every 15 minutes according to response to max. 3 mg/kg/hour
Side-effects: gastrointestinal upset, scalp tingling, headache, sedation
Disadvantage: may precipitate bronchospasm in children with a history of asthma