FOR MRSA COLONISED PATIENTS NOT ON ROUTINE ANTIBIOTICS and NOT EXPERIENCING A RESPIRATORY EXACERBATION
Regime A1: MRSA COLONISATION OF RESPIRATORY TRACT +/- SKIN /NOSE COLONISATION IN PATIENTS NOT CURRENTLY RECEIVING A CFTR MODULATOR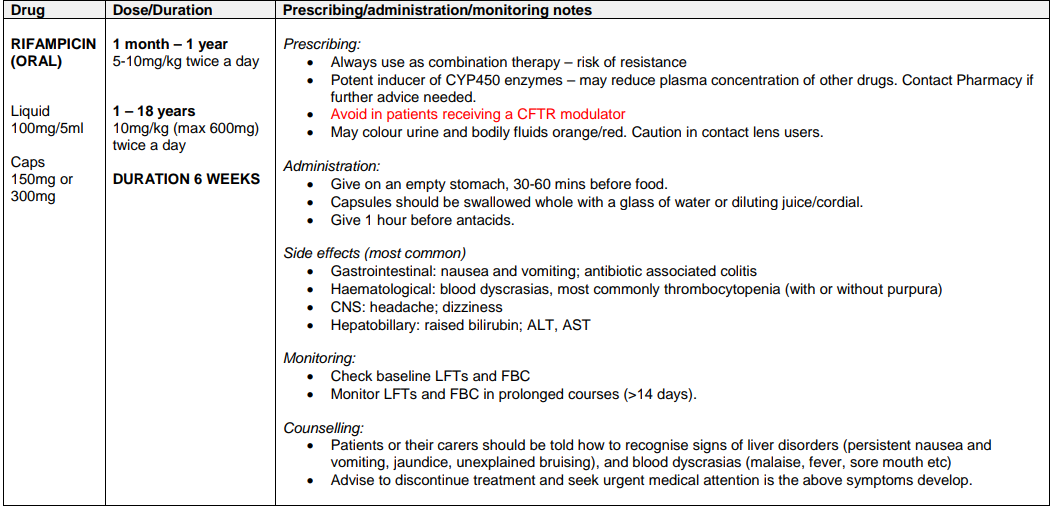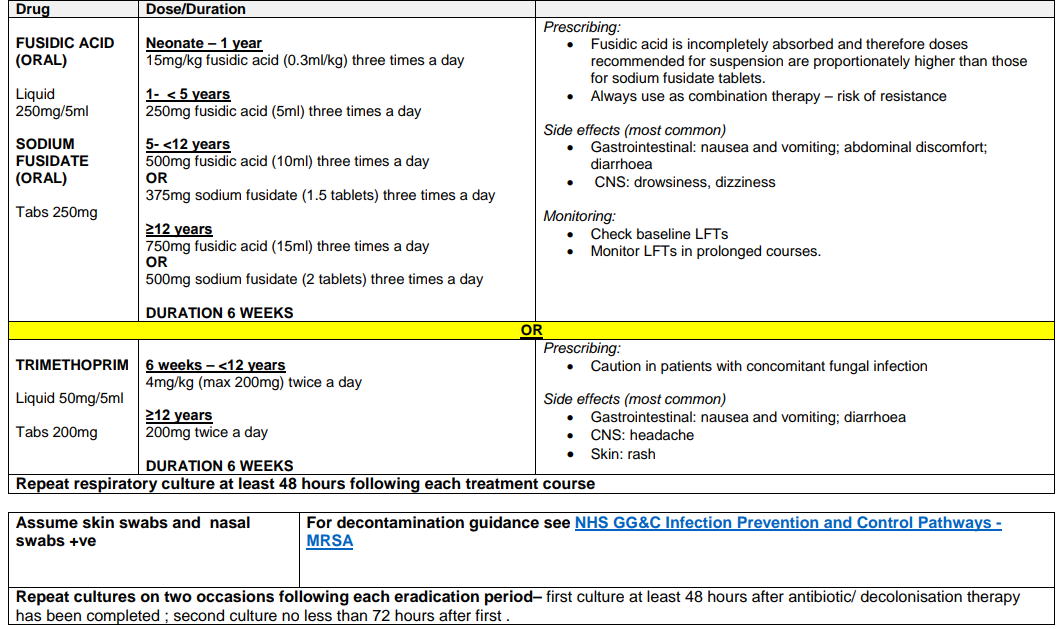 Regime A2: MRSA COLONISATION OF RESPIRATORY TRACT +/- SKIN /NOSE COLONISATION IN PATIENTS WHO ARE CURRENTLY RECEIVING A CFTR MODULATOR
Due to the risk of cytochrome mediated drug-drug interactions with the CFTR modulator therapies, patients receiving these treatments who require respiratory tract decolonisation for MRSA should be discussed with an infection specialist in the first instance.
Recommendations for decolonisation therapy will be based on individual microbiology and sensitivity patterns.
Check for drug-drug interactions before initiating treatment. For further advice please contact Pharmacy.
Regime B: MRSA COLONISATION OF SKIN / NOSE ONLY
If skin swabs or nasal swabs +ve
For decontamination guidance see NHS GG&C Infection Prevention and Control pathways - MRSA
Repeat cultures on two occasions following each eradication period– first culture at least 48 hours after antibiotic/ decolonisation therapy has been completed ; second culture no less than 72 hours after first.
Eradication Regimes A and/or B should be undertaken on a maximum of three occasions