Fibre-optic Phototherapy (Bilibed, Bilipad or Bilicocoon) is increasingly being used to treat neonatal jaundice in the term or near term baby. It provides a method of delivering safe and effective treatment while allowing better parental interaction/breastfeeding and improved parent satisfaction.  It is recommended that conventional (overhead) phototherapy should only be used for babies who have or are suspected of having haemolytic jaundice (antibodies, DCT +ve, rapidly rising SBR or a very high SBR on initial presentation).
Bilibed
The Bilibed device is a fibre-optic phototherapy unit which can be fitted into the base of most standard Bassinettes (Figure 3a). This method can be used instead of overhead lights. The precisely directed light and the minimum distance from the baby ensure high light efficiency and therapeutic action.  As it cannot be used within an incubator, or combined with overhead lights, it is recommended that use of the Bilibed should be limited to term or near-term infants with physiological jaundice who have no additional special care needs.
The fibre optic pad is designed to be placed within a disposable Bilisoft Cover and then correctly positioned underneath the baby ensuring the "brightest side "of the pad is next to the baby. This pad does not generate heat and will not interfere with the neonate's thermal environment. Fibre-optic phototherapy limits the eye's exposure to the phototherapy light but does not block this entirely.  Therefore in accordance with the manufacturers' instructions all neonates receiving phototherapy should have their eyes covered with opaque eye covers whenever phototherapy is administered.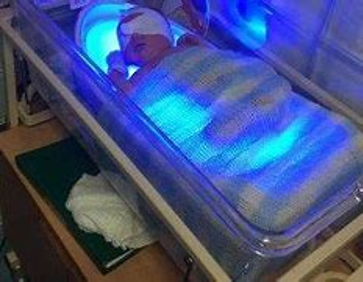 Figure 3a - Bilibed in a Cot
Bilisoft Bilipad
The "Bilisoft" Bilipad is similar to the paddle in the Bilibed but does not have a rigid enclosure.  This allows it to be used either in a bassinet or in an incubator.  There are two pad sizes, for preterm and term infants.  The Bilisoft Bilipad can be used on its own Figure 3b or combined with an overhead phototherapy unit to provide "double" phototherapy, as in Figure 1. 
The BiliSoft Pad Covers and Pad Nests are specifically designed for use with the BiliSoft Phototherapy Systems, which are used to treat both premature and full-term infants for hyperbilirubinemia. The soft, cushioned, disposable BiliSoft covers are made of flame retardant, skin-friendly fabric.  They are available in small and large sizes to match the size of the light pad. Materials used are engineered to allow therapy light to pass through the fabric and covers are x-ray compatible.
Figure 3b – Bilisoft BiliPad
Bilicocoon
The Bilicocoon phototherapy system has been designed to deliver controlled phototherapy to a greater proportion of the skin using either; a flexible nest which wraps around the baby; or a bag system which utilises two pads to treat the upper and lower surfaces simultaneously (figure 4).  Its primary aim is to treat neonatal jaundice without compromising the relationship between mother and baby and facilitate parent–infant interaction and optimise breast feeding.
The nest system is reported as being more adapted for low birth weight or preterm babies. It consists of a large pad allowing wrapping and is adapted for kangaroo care and the incubator.
The bag system is reported as being more adapted for term babies. It emits light to front and back, providing 360° exposure. The bag system allows little light from escaping the bag and is adapted for handling, cuddling and breastfeeding the baby. The system is also available in a small size, called Small Bag, to offer a comfortable and effective solution for all different sizes of babies.
A demonstration of how to set up and work the Bilicocoon 8
Courtesy of Central Medical Supplies. 
A SOP for the Bilicocoon can be viewed in Appendix 1.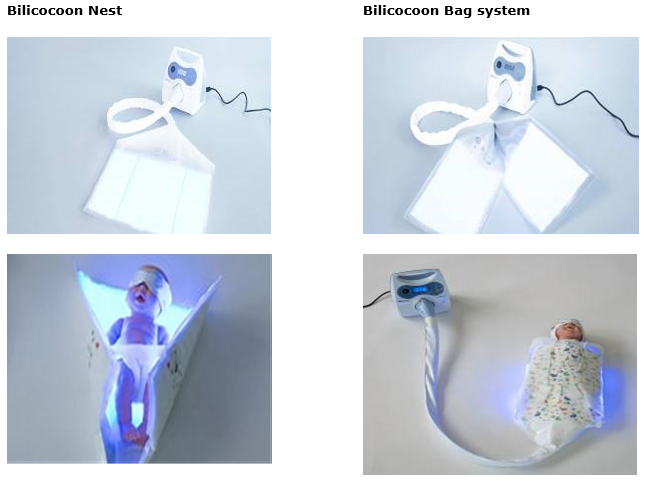 Figure 4   Bilicocoon systems